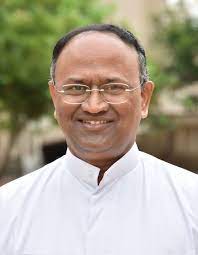 Dear Teachers, Parents, Students,
Greetings from DB Egmore,
As we embark on the journey of this Academic Year 2023 – 2024, the pages of opportunity await us.  It's a time for fresh beginnings, renewed ambitions, and the pursuit of knowledge.  This year promises to be a canvas of discovery, where each class, each project, and each interaction holds the potential to shape our future.  Let's embrace the challenges, celebrate each other's successes, and together, create a vibrant and enriching academic experience.  Here is a year of growth, inspiration, and endless possibilities.  Welcome, students, to a new chapter in your academic adventure!
Let's be determined and diligent in our preparation, seek help from our teachers and peers when necessary, and remember that our efforts will ultimately lead us to success.  I have FULL FAITH IN EACH AND EVERY ONE OF YOU.   Let's set our hope in the Lord with confidence, knowing that we have the power to achieve greatness.
Good luck to all of us, and may our hard work and determination shine brightly in the days ahead.  Thank you, and let's make this academic year 2023 – 2024, a memorable one!.
God bless you and stay blessed!
Yours in Don Bosco,
Fr. Dr. Xavier Pakiam SDB,
Rector & Correspondent