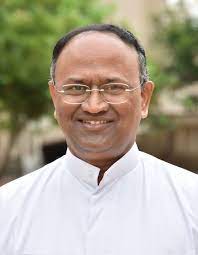 Dear Teachers, Parents, Students,
Cordial greetings from Don Bosco, Egmore, Chennai.
The world is slowly recovering from the effects of the on slaught let loose by a tiny virus, 500 times smaller than the diameter of a human hair – COVID-19. In the course of the last 24 months, this tiny monster brought the whole world to its knees, including the most powerful and prosperous countries in the world. According to the World Health Organization, this dreadful virus infected over 524 million people and took the lives of 15 million, across the world. Again, as per the WHO report, India has had the highest number of COVID-related deaths among all the countries–48 lakhs. This number is, of course, strongly contested by the Government of India, according to whose official version, the number of Covid-related deaths in India is a mere 5.2 lakhs.
While the worst and altogether irreparable loss inflicted on the world by the virus was the loss of so many lives, the pandemic wreaked havoc also on many other aspects of life. National economies were thrown out of gear; hundreds of millions lost their jobs, and millions of families were pushed into extreme poverty. Everywhere the worst affected were the poorest of the poor, those living on the margins of society, and those who have nothing to fall back upon. It also resulted in the largest disruption of education ever despite online lessons and the best efforts of teachers and parents.
As always, when calamity strikes, the best in people and the best of people come to the fore. Various studies have shown that right through the pandemic people showed greater readiness to share and contribute to charity. The way people responded to the emergency was admirable; each one trying to do his or her best. We have seen great examples of human solidarity, sharing, generosity, and self-sacrifice. We saw the true frontline heroes – doctors, nurses, paramedics, and scores of others – risking their own lives to protect the lives of others. We saw individuals and communities, irrespective of caste, creed, or culture, coming forward to help whoever was in need.
"Work from home" became a popular catch word during the lockdown — but how many could do it? The farmer couldn't supply us vegetables by working from home; the truck driver couldn't transport food grains to the markets by working from home; the grocery shopkeeper couldn't work from home; the garbage removers couldn't work from home; the migrant workers couldn't even reach their homes! In short, those who did the most essential things for us, couldn't do it by "working from home". They had to get out and risk their very lives, every single day. They are the real heroes who served us in those difficult days. They deserve our eternal gratitude.
We have many good lessons to learn from this pandemic. Let me here point out just three:
We humans are fragile by ourselves. Our strength lies in being part of a community.
Technology is a wonderful gift, but it alone is insufficient. Friends and good relationships are more important.
Life is God's first gift to us – the gift that makes all other gifts possible. It is timebound; appreciate it, and use it to make a difference in the lives of others.
We believe the worst is over. Now it's time to look ahead. The lessons learned from the past should guide us on the road ahead. As we embark on a new academic year, let us bring to it our best efforts, turning obstacles into opportunities and adversities into advantages as Don Bosco used to exhort his teachers and students.
God bless you and stay blessed!
Yours in Don Bosco,
Fr. Dr. Xavier Pakiam SDB,
Rector & Correspondent
[accordion]
[toggle title="Academic Year 2021 – 2022″ ]

Dear Teachers, Parents and Students,
Cordial greetings from Don Bosco, Matriculation Hr. Sec .School, Egmore, Chennai.
I am Fr. Xavier Packia SDB, your new Rector and Correspondent. Even though I took charge several months ago (in June 2020), because of the COVID-19 restrictions, we have not been able to meet each other in person yet. Therefore, it is with great joy that I make use of this opportunity to address you through this letter. Here I would like to share with you my vision for the school, and invite all of you to see what we together can do to maintain and promote the Don Bosco educative culture, both in our school and in our homes.
Dear students, the past few months have been a real testing time for you. The pandemic has thrown out of gear the usual rhythm of class, study, exam, and a whole lot of campus activities, which you love so much. The online classes were the best we could think of, in the given situation, but they aren't a worthy substitute for the far richer experience of learning through a wholehearted participation in campus life. At the school, we the management and staff miss you very much and we long to see you back. You are the heart and soul of this institution. Everything that exists here has meaning only in reference to you. Without you, the classrooms have become mute, the corridors look forlorn, and the playgrounds appear desolate. However, we are sure; they will all spring back to life at the first glimpse of your smiling faces and the familiar feel of your lively footfalls!
Dear Parents, we all know that the school alone cannot address all of a child's academic and developmental needs; a strong partnership between the school and the family is essential for successful education. You dear parents are our closest partners in this sacred task. We are extremely happy to see parents taking trouble to follow up their children's progress at school. We welcome, encourage and appreciate regular parent-teacher (home-school) communication and interaction. It will enhance the quality of our service, and ensure the academic progress as well as the personal growth of the children.
Don Bosco, our Founder, remains the role model for us in our mission of education. He was a teacher with a father's heart and a father with a teacher's mind and method. Don Bosco's system of education is fully equipped to bring out the best in every young person and to nurture their harmonious growth and all-round development. This system places the pupil at the centre of the educative community, which consists of all the stakeholders — the management, teachers, parents and pupils. Here no one asks, "What's in it for me?" Rather, the question will be, "What more can we do to make it even better for the students?" Their total wellbeing, their safety, security, intellectual development and the building up of their inner strengths, their character — takes precedence over everything else. In a family-like environment, through guided freedom, caring accompaniment, mutual trust, and friendly sharing, the pupils learn to discover their self-worth and develop their potentialities to the full.
The management and staff will constantly strive to deliver the best. Let us all work together in a spirit of understanding, mutual trust and with a strong sense of shared responsibility, acting always in the best interests of the students. Everyone knows we are living through difficult times. While waiting for the lockdown to end, let's not lose heart; instead, let's keep moving ahead with optimism and confidence, doing our little bit to maintain an atmosphere of peace, harmony and goodwill all around us.
Let not the social distancing distance our hearts! These are the times when we need each other most!
God bless you! Stay safe, stay blessed, always!
Yours in Don Bosco,
Rev. Dr. Xavier Packia SDB, Rector & Correspondent
[/toggle]
[/accordion]